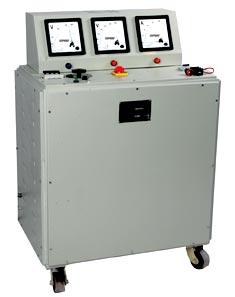 Continuously variable/manually variable D.C. Rectifier unit to be used in the Electrical Engineering Laboratories, with the following technical specifications :-

| | | |
| --- | --- | --- |
| Input | : | 415 Volts, 3 phase A.C. 50 Hz. |
| Output | : | 0-250 Volts continuously variable. |
| Cooling | : | Natural air cooling. |
| | |
| --- | --- |
| a) | A continuously variable auto transformer of adequate capacity with motorised control and ON/OFF switch with contactor and also manual correction facility. |
| b) | An isolated 3 phase transformer of input 0-415 Volts, star connected, output 0-250 Volts, delta connected, air cooled with 10% overloading capacity. |
| c) | Rectifier circuit block to connect with the above with suitable heat sink. |
| d) | Ripple soothning choke is connected to reduce the ripple at the output. |
| e) | A miniature circuit breaker is provided in input to protect the Variac and Transformer for possible short circuit. |
f)

A D.C. Circuit breaker is introduced in output to protect the unit from output short circuit.

g)

Monitor :

:A.C. Voltage monitor analog with selector switch at input A.C. Volts
:Analog monitor at output D.C. Current and D.C. Voltage

100 Amps, 250 Volts.

75 Amps, 250 Volts.

50 Amps, 250 Volts.

30 Amps, 250 Volts.

20 Amps, 250 Volts.

h)

A.C. Input R Y & B pilot lamps.

i)

D.C. output pilot lamps.

The entire system will be housed in well ventilated M.S. cabinet duly powder coated and all controlling devices will be brought out and terminated on top panel duly marked for easy operation. The unit will be of floor mounting type with suitable castors for easy transportation.