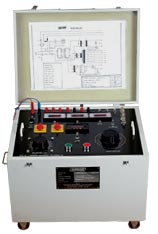 Supreme make relay testing set is designed for site testing of protective relays which simulate in common fault conditions under which a protective relay will be called into positive function. Periodic field testing is the best way of ensuring the integrity of the protective relays. We offer our relay testing set with specific testing capacity to suit different group of protective relays. The testing set operates on single phase 230 V, A.C. 50Hz. Supply.
The set is housed in Sheet steel Cabinet duly powder coated with detachable lid with all the control knobs, switches, terminals etc. brought out on thick bakelite panel duly engraved. The set is suitable for testing Thermal Relays, Over Current Relays, Earth Fault Relays, Under Voltage Relays Over Voltage Relays etc. The set will have the following technical specifications:-

INPUT :

230/240 V, Single Phase A.C. 50 Cycles.

OUTPUT CURRENT :

0-100 Amps.

CURRENT RANGE :

0-1-5-10-25-50 & 100 Amps.
Each Range is Selectable & Continuously Variable.

OUTPUT VOLTAGE :

0-250 V, Continuously Variable.

OUTPUT D.C. VOLTAGE :

110 V. & 220 V. Fixed Capacity 1 Amp.

BURDEN :

200 VA for continuous and 600 VA for short time.

(Note: Please specify the current capacity, current ranges and burden while sending your enquiries / orders)

INSTRUMENTS ALL DIGITAL :

1 No. A.C. Ammeter to measure output current
1 No. A.C. voltmeter to measure output voltage
1 No. D.C. voltmeter for D.C. output voltage
1 No. Digital Time Interval Meter having Range of 0-999 milliseconds or any other Ranges as per your requirements.
The Set is provided facilities to cut off the output when the Relay under test is tripped.

The offered unit is complete with necessary regulators, Switches, Loading Transformer, Multiratio C.T., Indicating Lamps, Trip relay and contactor, necessary output terminals etc. duly wired and tested.